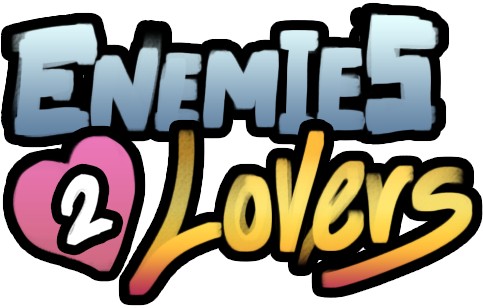 Enemies2Lovers
ENGLISH

CONTROLS
Dialogs

Left click on "Next" – Advance dialog

Right click – Skip dialog

Main game

Move your mouse - Aim
WASD - Move
--
Welcome to Enemies2Lovers, a game in the "Bullet Hell" genre with romantic visual novel elements.
Story: Playing a tabletop roleplaying game, you decide to use all your points on "Charisma" ignoring all the complaints of your DM. You are now lost in a dungeon.
Your character's name is Don Juan, a bard that seduces everyone to solve all of his problems.
Talk to your enemies. Depending on the things you say, you may receive a bonus or a penalization later on.
Seduce them in an exciting shooting battle, throw hearts at them and avoid getting hit.
Talk with 4 exciting characters and seduce your way out of the dungeon!
--

SPANISH

CONTROLES
Diálogos

Click izquierdo sobre "Next" – Avanzar dálogo

Click derecho– Saltar diálogo

Juego Principal


Mantener click izquierdo – Disparar

Mover el ratón - Apuntar
WASD - Moverse
--
Bienvenido a Enemies2Lovers, un juego del género "Bullet Hell" envuelto en una divertida novela visual romántica.
Historia: En una partida de rol, te has puesto todos los puntos en "Carisma" pese a las indicaciones de tu DM. Ahora mismo, te encuentras perdido en una mazmorra.
Tu personaje se llama Don Juan, un bardo que soluciona todos sus problemas ligando.
Charla con tus enemigos. Depende de tus elecciones, recibirás mejoras o penalificaciones para la siguiente fase.
Conquista su corazón en apasionantes batallas de disparos, lánzales tus corazones y esquiva lo que te echen por delante.
¡Conquista a 4 pretendientes y ábrete paso por la misteriosa mazmorra ligando!
--
CREDITS / CREDITOS
SaltLithe (Kraren, Programming (Dialog))
Nichromatic (Bastet, Programming (Minigame) and UI Design)
Twisterloop (Ava, Bastet (dialogue), VFX and Level Design)
Artmeleosaurus (Herensuge, Don Juan (Design) and UI Design)
Mawyn (Music Composer)
With the special collaboration of:
Carmen Carreras Molina (English proofreading)
Iván Martín De San Lázaro (Organized the Jam and created the main library for the game)
Comments
Log in with itch.io to leave a comment.
this is literally me on my first d&d campaign, my bard charmed the pants off the enemies hhaahaha